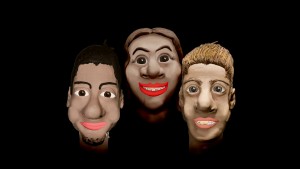 Waving goodbye to another busy year! The last few weeks of 2014 saw the completion of an animation for Martin Lowes of Signal One which you can see here. We also had a meeting with The Joshua Tree charity with the aim of working with some of their families and also doing some animation for their awards show in February and the organisers of the Middlewich FAB festival were in contact about doing an animation workshop at their 25th anniversary weekend. With all of that going on we raced up to the end of the year and… I got behind on the blog – so here I am again (finally).
The year is starting with an end- we are finishing the animation and graphics for Rowena Woolford's short story, 'Tell her' which is in post production. An interesting project as it also has some brand new music being written for it. I am also hoping to fit in some time for a pet project of mine which is an animation to celebrate the Chinese New Year. This has been on the back burner for a while now so it would be nice to finally complete it.
I nearly forgot – our Halloween animation which was mentioned in the last blog can be seen here.
A happy New Year to you all, and in the words of a fave of mine…
Live long and prosper!